Follow us on the GMPL Facebook Page to view and comment on posts with reading recommendations for adults or visit the Library if you are looking for something new to read.
Talk to Abby in the Children's Department to see recommendations on the GMPL Kids Blog.
Talk to Maureen in the Adult Services Department for adult recommendations and assistance.
Chat with Crystal in the Teen Department about teen reading recommendations on vampires, superheroes and more in person or on the Teen Section of the website.
Visit the GMPL Goodreads page to find recommendations of all kinds.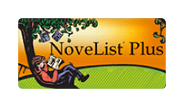 Visit NoveList Plus to discover new books that might be of interest using readalikes, recommendations and reviews.  This resource is also integrated into the GMPL Catalog, displaying reviews and recommendations for items that GMPL owns in the collection.